One of the reasons WordPress is such a powerful platform for building great blogs and The enormous number of accessible plugins is one of the reasons WordPress is such a powerful platform for creating fantastic blogs and websites. These make it simple to include photo galleries, video players, calendars, social media tools, and much more on your website. What's the best part? It usually only takes a few clicks to get started with a plugin.
The challenge of creating a slider on your own would be difficult. Creating decent sliders usually necessitates a significant bit of coding. However, with a WordPress plugin, you can add a professional, gorgeous slider to your website in only a few clicks. The majority of slider plugins don't require any coding at all!
There are hundreds of slider plugins to select from, and it can be difficult to know which one is right for you. As a result, we've compiled a list of suggestions that cover a wide range of requirements
This is a beautiful, free, and easy-to-use plugin. It comes with multiple styling options, such as image linking, pagination, next/previous buttons, three different shadow types, seven different types of preloading icons, padding and border settings, and lots more. The easing slider also comes in a pro version for those looking for a more unlimited tool. To see a demo of this slider in action, click here.

Nivo is a sleek and powerful slider tool. It has easy-to-use features coupled with step-by-step video tutorials to help you every step of the way. Nivo comes on two platforms: jQuery for advanced web designers and the WordPress version for users who want to avoid the coding hassle. It gives you the ability to create multiple sliders and makes editing them a breeze thanks to simple drag and drop features. Nivo also includes prebuilt themes and the option for full CSS personalization. One of the most popular features of Nivo is its automatic cropping and sizing feature. If your image is too big or too small, don't worry, Nivo will ensure that they come out perfectly in your slider. For a live demo of Nivo, click here.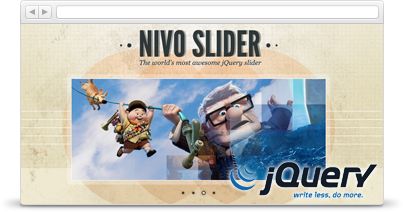 This slider is focused on those looking for a slider featuring content. Content Slider by SlideDeck is capable of incorporating various kinds of media, such as images, video, and audio. This content-focused slider is available in both a Pro & Free "Light" version. As a WordPress plugin, Content Slider runs on a graphical interface, so don't worry about coding. One bonus: all the content included on your sliders is completely indexable by search engines. View live demo of Content Slider by SlideDeck, click here.

Master Slider is a free SEO-friendly, responsive image and video slider that truly works on all major devices, and it has super smooth hardware accelerated transitions. It supports touch navigation with pure swipe gestures that you have never experienced before.
With our 8 Starter Samples, creating slideshows has never been so fast and enjoyable!